The vineyard is the soul of the wine – and that's why I produce them by a certified organic program – since 2007. With the abandonment of synthetic fertilizers, herbicides and pesticides is everything in balance. Our vineyard is vital, colorful and there are growing many different herbs, where billions of microorganisms are living there.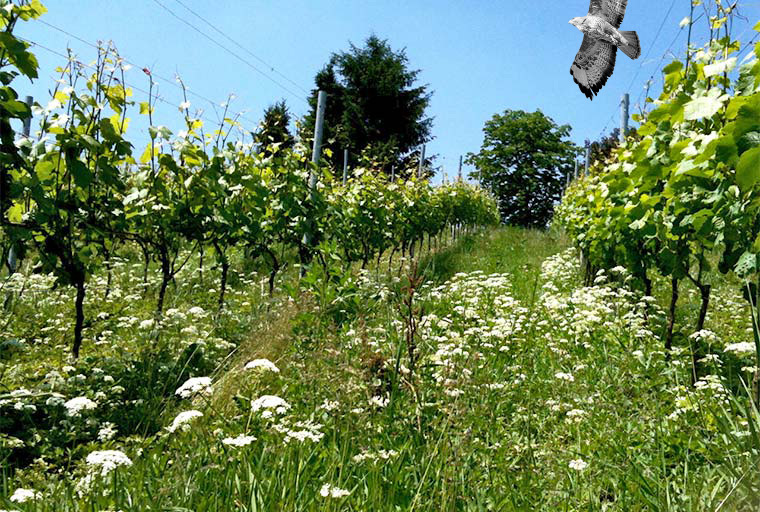 The soil at the Herrenhof is something very special. It is shaped by tertiary sediments, limy sandstones, opok (compacted silt), silt and gravel. Especially the weathered standstones are the subrate from which the vines are "sucking".
Our vineyard at the estate is called Buchertberg® and this since people may think. That's why we name two of our wines like this. Our wines are deeply connected to its terroir. You can see this logo "Buchertberg®" on the label of Buchertberg White and Red. These two are field blends. This is the way how you show terroir at its best.
Lust for a grape-variety-walking-tour? Then you should be part of it in the end of august or september! Do you know red, white or blue Heunisch, Adelfränkisch or white Orléans? Then you should be part of this in the future. The grapes are all historic grapes and sadly no where else grown anymore. From the end of august and september we provide grape variety walking tours including a tasting of our white field blend (Buchertberg White) here in our old wine cellar. To register to our newsletter wouldn't be a mistake.
I could write about my vineyard a lot, but I want to invite you to visit our place and discover this special vineyard slope. That's the way to show you, why our wines taste very intense and are truly authentic!
> to the more infos about the grape-variety-walk
Episode #18 is about the soil on Buchertberg hill (in German):
Silt, limy sandstones and sand >>